Jonathan Allen and Ryan Anderson have been having fun during their first offseason with the Redskins.
Last week Allen traveled back to his alma mater as he and his longtime girlfriend Hannah Franklin got married. They exchanged their vows at the Holy Spirit Catholic Church in Tuscaloosa and had their reception at Alabama's Bryant-Denny Stadium. Check out this snap from his big day and visit his instagram for more pictures https://www.instagram.com/jonallen93/?hl=en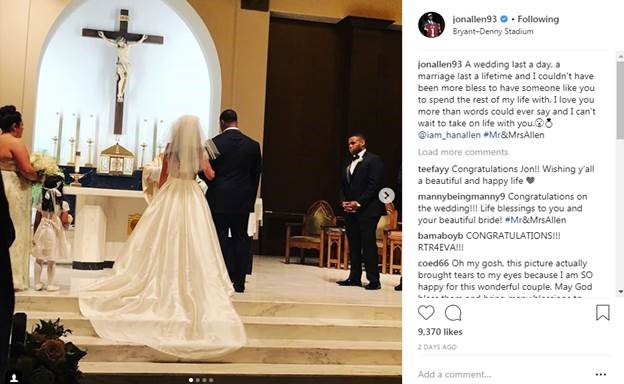 Congrats to Jonathan and Hannah!

As for Ryan, he spent his week giving back to his hometown, Daphne, Alabama by hosting a Youth Football Camp alongside his former teammates. 2018 Redskins first round pick and fellow 'bama football alum, Daron Payne even showed up as a special guest! 200 children ranging from ages 6-14 attended the camp, which was free for anyone that had registered. Anderson's motivation to start the camp was because he hardly got an opportunity to attend these kind of events hosted by NFL players. He feels as his career progresses, he owes it to his community to create these opportunities he didn't have.
We are excited to see these and other Redskins players we they prepare for training camp and the 2018 season!
HTTR!
comments powered by

Disqus
It's our turn.
Join the 136059 members
Join The Redskins Women's Club
Refer a friend now
WOW is better with friends. So get yours to join. And share every Burgundy and Gold moment.
Fri
Sat
Sun
Mon
Tue
Wed
Thu
1

Feb. 2, 2019

11:00 AM WOW Wellness Huddle presented by bedgear

2
3
4
5
6
7
8
9
10
11
12
13
14
15
16
17
18
19
20
21
22
23
24
25
26
27
28
1
2